Yesterday was the first day of winter, and in some parts of the country, it's really coming on strong (and has been for awhile now)! Today, we're hoping to bring holiday cheer to everyone with creative décor ideas, a winter holiday gardening tips, DIY mini garden (with a climate you can control!), a fun recycling project and more. Plus, get details about signing up for a can't-miss event happening next year. Happy reading…and happy holidays!
Need a last minute gift or some fresh winter décor to spruce up your porch or patio? Gather some greens (and reds, and yellows, and even pinks!), your favorite container, and get creative. See what The Outside Design Studio in Chicago, IL, included in this gorgeous holiday container, and take a look at 13 more to get you inspired!
Itching to get your hands dirty, but the weather's not cooperating? Planting a terrarium could be the answer. See our top 10 DIY terrarium tips, including how to select the right plants and the best locations to display them.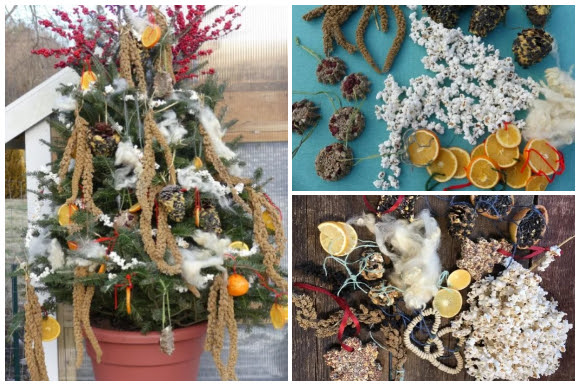 Do you put your tree out to be picked up by the city to be recycled? Well, here's another way to recycle it while also having fun and helping out the local wildlife. Claire Jones of The Garden Diaries blog moves her tree outside and creates a bird and wildlife feeding station. See how she does it and get her recipes for a few special treats to include.
When it comes to caring for plants for winter, don't forget about your houseplants! Even though they're indoors, houseplants need a little extra attention this time of year. For example, if you find yourself running your heater often, you may need to move a plant out of the path of the heater to make sure you're not inadvertently blasting it with hot air all day and night. Get more tips here. Photo by: Proven Winners.
The garden event that sells out every year has announced their dates for 2023! Join Proven Winners August 27th, 28th, and 29th at The Grand Hotel on Mackinac Island in Michigan to tour incredible private gardens. Speakers include Kerry Mendez of Perennially Yours, Jenny Simpson of Creekside Nursery, Tracy VanVolkinburg of Plaids and Poppies, and more.
Tickets for the Grand Garden Show will go on sale Monday, January 9, 2023. Be sure to mark your calendars and register early as this show sells out quickly every year. Get more details here.
For those wishing to give this as a holiday gift, please contact Karin Jenkin for a certificate you can present to your loved one. Call (815) 895-0104 or email [email protected].
Just in case anyone else is inspired to embark on another fun and easy garden project this winter, I wanted to share this DIY with you. Making these hypertufa containers only requires a few easy-to-find ingredients, and the most time-consuming part is waiting for them to dry.