Even though we get to observe the leaves changing colors every year, it never seems to get old, does it? Today, we share some of our favorite colorful trees—along with ideas for what to do with all those leaves once they fall. You'll also find a landscape that invites wildlife in, tips on caring for your garden in fall, what to plant for next year's fall and winter DIYs, and classes for gardeners of all skill levels.
If the promise of fall color has you wanting to add a tree to your yard (and it's a great time to plant one!), you're going to love these recommendations for a few of our favorite colorful native trees. Pictured: Sugar maple (Acer saccharum). Photo by Paul Rezendes.
Ten Things to Do with Fall Leaves from The National Gardening Association.
Check out this interactive map to see when & where fall colors are at their peak: Fall Foliage Prediction Map.
See how these Delaware homeowners, along with the help of a local landscape architect, created a garden that attracts a wide diversity of wildlife, from a host of beneficial insects to birds, amphibians, turtles, foxes, and so much more—even skunks are welcome! The garden is centered around a pond and waterfall that is a hub of activity, with regular visitors that come to drink and bathe. Create your own wildlife-friendly garden with tips that can be applied to gardens of all sizes and locations.
"We get some deer damage and apply repellent to select plants, but our goal is to co-exist with nature as much as possible." – Morty Bachar, homeowner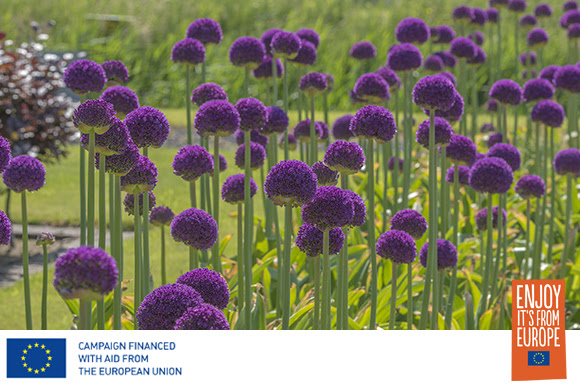 Alliums don't just steal the show in your garden. Their flowers also benefit bees and butterflies. Ranging in size from a few inches to several feet, Allium bloom in a wide range of colors from purple, pink, lilac to white. Plant a variety for a succession of blooms from spring through summer. Visit FlowerBulbs.com for more information and inspiration.
Check our Instagram post today and enter to win $100 in bulbs!
Rose hips are the small orange fruit that forms after roses have faded. In warmer climates, these should be left on through fall and winter and not pruned off. Learn why this is important, plus get fall rose pruning tips for any climate.
Fall is also a great time to plant roses, as long as it's 6 weeks or more before your average first frost. See what roses are still available to order online from Proven Winners or check your local garden center.
Get some of these 12 shrubs in the ground and next year you'll have your own supply of fresh-cut branches right from your own garden—perfect for fall and holiday DIY projects. Pictured: Pearl Glam® Beautyberry (Callicarpa hybrid) for Zones 5-8. Photo by: Proven Winners.
Learn the WHY's, not just the HOW-TO's, of gardening from national gardening expert Joe Lamp'l in these fun and easy-to-follow courses. You'll also get bonus videos, extra resources, and forums to ask your own questions. Get more info on each online course below and learn to grow like a pro!
Beginning Gardener Fundamentals (*use code GARDEN150 for $150 off!)
– A series of 10 teaching modules that will ensure your next gardening season is a success!
Growing Epic Tomatoes (*use code TOMATO150 for $150 off!)
– World-renowned tomato grower Craig LeHoullier joins Joe to teach us all how to grow the most epic tomatoes ever!
Master Pests, Diseases, and Weeds
– Learn proactive steps to identify, minimize, and manage these garden foes organically!
The Perfect Soil Recipe Master Class
– Build a healthy base to grow your best garden yet, with Joe's perfect recipe for success!