It's officially spring! Okay, someone needs to tell the weather man, but the calendar says it's spring and we're going to roll with it. Let's kick off the season by checking out 26 of the best spring flowers, getting our design game on point, learning about perennials, and planning some summer travel. Plus—don't miss our webinar later today with Dan Benarcik of Chanticleer!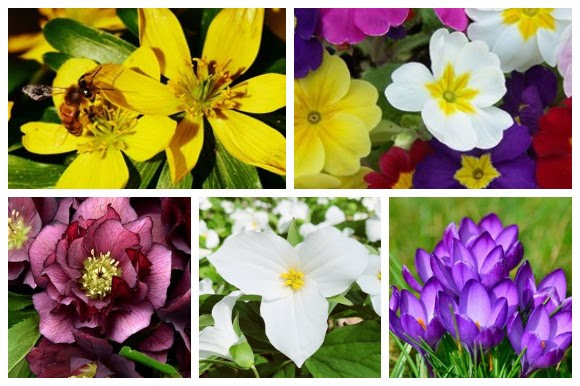 Spring flowers are starting to bloom, right on cue! Can you name all five of the spring flowers pictured above? Check your answers and discover 26 popular spring flowers that will get you through the entire season.
Hopefully your outdoor areas are both beautiful and functional, but if they're not exactly what you were expecting—or if you're just in the planning stages—check out these 12 tips that can be applied to large or small spaces (and budgets!).
Need more design inspiration? Don't miss today's webinar…
WEBINAR:
Design Principles of the Pros for Home Landscapes
with Dan Benarcik, Chanticleer
Today! March 23 @6PM EST*
Join us for Design Principles of the Pros for Home Landscapes with Dan Benarcik at 6 PM ET* today. If you don't know Dan, he is an excellent speaker and has been a gardener at Chanticleer (one of the most popular gardens in the country) for nearly 30 years. There will be many takeaways you can use in your home garden.
One of the concepts Dan will discuss is "destination":
How to give your guests a reason to travel through your garden
How even a small garden can muster a journey
How to punctuate the journey with details
How the journey can be "visual as well as actual"
*Can't join us today? No worries! All registrants will receive a follow-up email that includes access to the recorded version along with updated notes & insights from the webinar that you can view at your convenience for 30 days.
Two Ways to Register
1 – Purchase the webinar à la carte ($20).
2 – Become a paid member of Garden Life! Your paid membership to Garden Life includes our next 10 webinars (at a $120 savings!). You will automatically be registered for all webinars.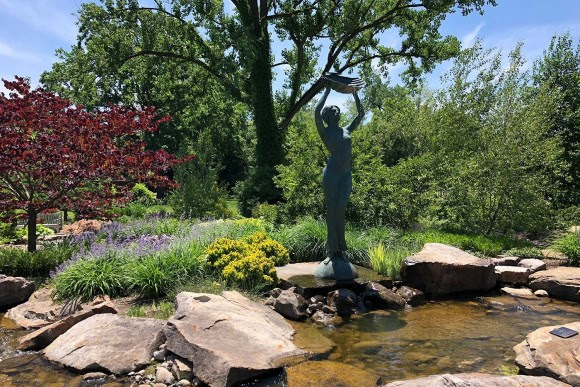 Visit Amish country and see acres of award-winning quilt gardens that meld quilting, gardening and art into a one-of-a-kind event that features over one-million vibrant blooms. Learn about the history and culture of the Amish people as you dine in Amish homes, meet their families, tour their personal quilt gardens and browse through local markets and shops. Spend a morning exploring Wellfield Botanic Gardens (pictured), a 36-acre garden that celebrates the inseparable relationship between water and life, taking in the over 20 individual gardens including an English-style garden, quilt garden, and the Japanese-style Island Garden. You'll enjoy all of this and so much more on this 5-day, 4-night tour!
Art in Bloom's trademark is the personal touch they put on each and every one of their tours. As with all Art in Bloom tours, this trip is limited to a small number of guests, so be sure to secure your spot today! See the full itinerary and get more information.
Do you find yourself sometimes feeling impatient with your perennials' performance, especially in their first and second years? Understanding the "sleep, creep, leap" cycle of some perennials can significantly improve not only your gardening success, but your patience as well.
Pictured are new perennials for 2023: Shadowland® 'Echo the Sun' hosta, Fruit Punch® 'Funky Fuchsia' pinks, and Upscale™ 'Lavender Taffeta' bee balm. Photos by: Proven Winners.
See all the new perennials from Proven Winners.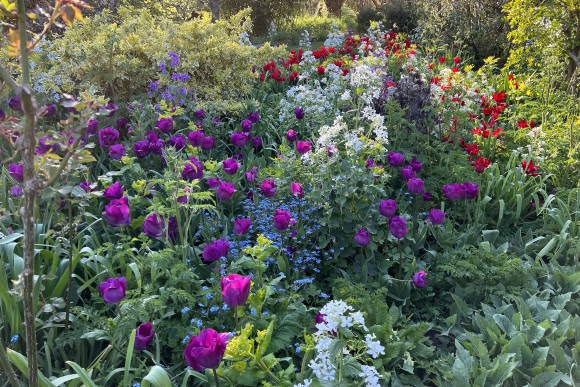 Great Dixter was the family home of gardener and gardening writer Christopher Lloyd. The gardens were the focus of his energy and enthusiasm and fueled over 40 years of books and articles. Since Lloyd's death, it has been under the stewardship of head gardener Fergus Garrett and the Great Dixter Charitable Trust. The garden is a magical place for families to visit, as well as a center of education and a place of pilgrimage for gardeners across the world. If you're planning a visit (if you haven't yet, here's your hint to do so) or just want to learn more about it, check out the following links for more information: